CMS Designing (Content Management System)
CMS Designing in Joomla, Magento, Wordpress, Druple etc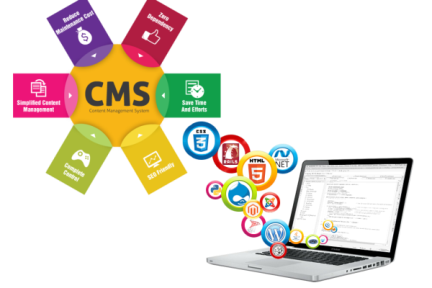 CMS Designing (Content Management System)
Building a website is a given in today's world for any company. But what kind of website should it be? The answer depends on the kind of requirements that the website owner has in mind. If one is developing websites keeping in mind slow internet connections and even 2G users, then the website should be simple and easy to navigate. It should not be too flashy or full of HD images otherwise it will take a long time to load.
Division of information
The website should be neatly divided in to various sections with a suitable heading. One should use pictures judiciously. The colours of the website should be easy to look and it should not strain the eyes of the reader. If there is lot of information to be displayed, then one should have classification systems of sub-topics or sub headings under a given topic or heading.
Key distinguishing feature
The website should give a clear understanding of the core concept. The website of one company or person can be a key distinguishing feature as compared to other competitors or individuals. One should also make sure that the suitable domain name as per the company's name or brand name is used so as to enable users to search for it and find it easily.
CMS & its advantages
CMS website development or Content Management System allows one to control and manage the content of the website without any sort of technical training. One can very easily add, edit and delete pictures and words of the website on the go without any sort of difficulty using this simple system. This is great for users who have absolutely no programming experience at all. One just needs familiarity with the software MS Word and one is set to go. This is all that is required to manage the content of the website. It can be managed quite easily using any normal web browser like Firefox, Internet Explorer or Chrome. This can be done from anywhere in the world.
Easy update & maintenance
Many companies or individuals would like to update their websites on a regular basis. This is plain and simple and very obvious as one has to keep changing information on the website as per the changes in the offline world. Many times there are delays getting the content updated and putting the new content on the website. The site shows old information and prospective clients do not see the present information. This will result in Google putting one right at the back when someone searches for the company or individual. If a website is not found rapidly when it is searched for on any search engine, then it is losing money every single day.
We are digital marketing experts who can help companies and individuals design a great website. Let us help you to make the website of your dreams