Social Media Marketing
Social Media Marketing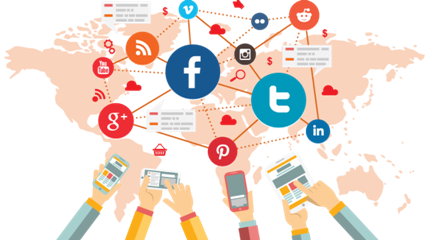 Social Media Marketing
SOCIAL MEDIA OPTIMIZATION
Brand endorsement is the key for any successful business. We are one of the leading pioneers in the industry who can make your brand name most visible on the internet. In this digital era, reaching people is very easy through the world of network. One such effective way is social media.

In order to establish a product or an event or firm presence in the Internet, social media optimization is very important. We are one of the best company who make digital marketing an easy process.
Social media optimization (SMO) has become an integral part of internet marketing. Social media has numerous fast developing websites that spreads the brand name in seconds. Making your content most visible and shareable is our prime duty. We extremely make sure that your website reaches all through the social media in a right way. Creating a traffic to your website will be done by all possible means of spreading the name of your brand. Referral marketing plays an important role in the internet. This can be done through spreading your brand name on social media.
ETHEREAL WAYS TO SPREAD YOUR BRAND NAME:
Content sharing:
We work in team to make sure the content and ethical idea of your brand spreads throughout the internet. This is one of the popular method of increasing traffic to your website.

Sign up offers:
We encourage people to sign up in your website by using all social accounts. This may make the users more comfortable with your website.

Sharing videos:
This is one of the most efficient ways of making people understand the content easily. We help the brand or product to the most in sharing the videos about the firm. It can be shared on all the social media websites possible to spread the name.

Tagging and bookmarking:
We help the brand to tag or bookmark their content social media websites so that it increases the visibility of the content.
Adding more links:
We strive maximum to add links to your website in most of the social media by giving attractive posts about your brand in the websites.
What's SEO and what's SMO?
There is a very strong bond between search engine optimization and social media optimization. Our main motto is to clearly make use of the both and to create a strong mark of your brand on the world of internet. We strive to bring a multi-point access to your website throughout the internet making digital marketing an easier one. A successful social media optimization is very important to make your company grow faster in the digital market. Owesomeworld is one of its own kind to offer the best of the social media optimization and drive traffic towards your products, thereby generating sales.