Online Reputation Management ORM
Online Reputation Management ORM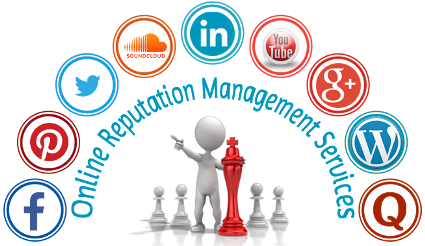 Online Reputation Management ORM
Enhance your reputation with our ORM Services
Enhance your reputation with our ORM services Reputation in everything in today's world. The reputation of a company takes years to build if not decades but it can be lost very easily. With the internet all pervasive and omnipotent and enabling easy sharing of information, ideas and experiences managing one's only reputation becomes difficult.

What is ORM?
ORM stands for Online Reputation management. Every time we use the internet for anything we leave behind a trail that can be traced back to us. Sometimes the trail is positive and enhances our reputation while at times it may be neutral or in some extreme cases negative which can damage one's reputation badly. Online reputation management will take care that your reputation is enhanced or in some cases if the reputation is already high, then it is preserved and kept that way.

What are the advantages or benefits that one can get from online reputation management? Most times the consumer researches products and services as well as different brands before deciding to buy them; be it in the online world or in the offline world. There are various retailer websites online as well as other sites that give description of the users' ratings and reviews of a particular brand or product. Negative comments and reviews drown out the positive feedback and dissuade a potential customer from buying this particular brand. With the help of online reputation management services, these comments can be removed from focus so that the potential customers are able to focus on the positive feedback which assists buying thus resulting in greater sales for the company.

Who are the main users of ORM?
Giant corporations as well as small and medium enterprises along with individuals are the main users. In fact anyone who wants to enhance or maintain his online reputation is a potential user of this service.

Why should ORM not be done by self and given to us?
There are some things that one should do by himself such as maintaining one's social media account or using jobs based website or a business networking website. There are other things such as ORM services that are best left to digital marketing experts like us. The expertise and specialization in that field enables us to do a perfect and professional online reputation management for our clients.

Is ORM service just for removing negative feedback and comments while focusing on and enhancing the positive feedback?
There is more to ORM than that. For example removing embarrassing pictures of oneself that were posted earlier, certain tweets or Facebook posts that can land people in trouble etc. Prospective employers who are thinking of hiring a certain individual are also likely to do a thorough back ground check which includes an online check. If some embarrassing or unprofessional thing is found then it might affect that person's job prospects as well as career prospects. So contact the digital marketing experts now so that we can take care of the online reputation management.
ETHEREAL WAYS TO SPREAD YOUR BRAND NAME:
Content sharing:
We work in team to make sure the content and ethical idea of your brand spreads throughout the internet. This is one of the popular method of increasing traffic to your website.

Sign up offers:
We encourage people to sign up in your website by using all social accounts. This may make the users more comfortable with your website.

Sharing videos:
This is one of the most efficient ways of making people understand the content easily. We help the brand or product to the most in sharing the videos about the firm. It can be shared on all the social media websites possible to spread the name.

Tagging and bookmarking:
We help the brand to tag or bookmark their content social media websites so that it increases the visibility of the content.

Adding more links:
We strive maximum to add links to your website in most of the social media by giving attractive posts about your brand in the websites.
What's SEO and what's SMO?
There is a very strong bond between search engine optimization and social media optimization. Our main motto is to clearly make use of the both and to create a strong mark of your brand on the world of internet. We strive to bring a multi-point access to your website throughout the internet making digital marketing an easier one. A successful social media optimization is very important to make your company grow faster in the digital market. Owesomeworld is one of its own kind to offer the best of the social media optimization and drive traffic towards your products, thereby generating sales.