Job Portal
Job Portal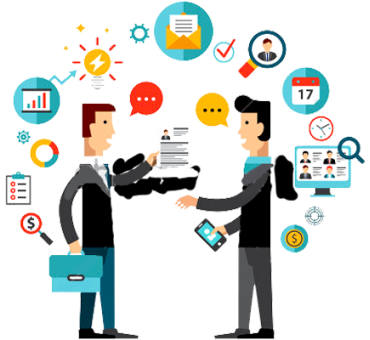 Job Portal
Jobportal Development
Are you looking to start your own Consultancy or Recruitment firm than you need a job portal through which you can have lots of Features to run your business smoothly without having manual work. Job Portals provide a platform for the employers to meet the prospective employees and provide jobs as per qualifications and experience.
TO ARRANGE A FREE DEMO OF OUR JOB PORTAL SOLUTION PLEASE SUBMIT YOUR DEMO REQUEST NOW !!
The companies have the choice to search for their suitable candidates from the resume database using various options and parameters available in the job Portals. Students after completing their necessary qualifications bum around in search of job. if you want to help these job seekers, you can move a user friendly Job Portal Development company. In the era of INTERNET, large number of students search jobs through websites in comparison to Newspapers, Employment agencies. Resume posting as well as job search websites are the most famous website among the fresher's as well as for experienced employees. So in respect of this aspect, almost all companies are developing and maintaining their job portals so as to provide job to job seekers.
We provide latest facilities that will enable you to process payments directly through the most famous PayPal payment mode. With this portal you can easily edit Payment options, as well as all distinct elements of the website such as the layout, emails, and registration options. We are a Job Portal Development India Company with an exceptional track record of delivering 400+ Job portals websites successfully.
We have expertise in different kind of Job portal solutions for recruitment agencies, we have best solution for this industries and provide fully made custom solution. Our Job portal solution exist :-
Our Solutions in Job Portal Development:
• Job Portal Design Development
• Recruitment Portal Development
• Custom Job Portal Development
• Job Website Development
• Job Web Application Development
• Maintenance of Job Portal Solution
Our Solution has all the job portal feature and we provide all maximum feature that a good job portal solution should have, to know more about our Job portal feature please see below link:-
Special features for Employers:
• Provide space for job seekers to upload their profile, edit their profile and can view the entire job openings.
• Provide space to Employer's where they can post their vacant job ads, manage companies profile and search the relevant database from jobseekers resume.
• Subscription Management and Purchasing
Special Features for Job seekers:
• Online facilities of filling registrations forms
• Free Resume Posting
• Online Resume Editing
• Search for Job lists and apply the desired jobs
• Upload / Attach Image in the resume
• Jobs Bookmarking
• Employers characteristics
Our job portal script mainly consists of:
• Online Job posting at the portal
• Online Job Editing
• Search for Job seekers and resumes
• Profile management
• Payment Plans
• Upload / Attach Image to their profile
• Boolean Search
• Advance Search as per various category.
• By choosing jobs category options form the list, job seeker submit a cover letter, and then this cover letter along with his CV is send to the employer of relevant company through mail
• Acknowledgment mail is also send to job seekers
Admin area:
• Content Management System
• Job Seeker Management
• Employer Management
• Category management
• Role Management
• Site management
• Package Management
• FAQ's management
• Job seeker and Employer Statistic
• Super-admin has privilege to activate or deactivate job seekers and employers.