E-commerce Website
E-commerce Website Development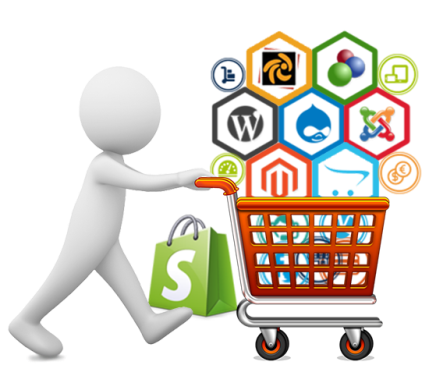 E-commerce Website Development
The world is transforming into an Online multi million dollar market and we all know that lots of online B2B and B2C based websites are getting developed everyday and are getting good responses from people. Nowadays people are busy and so they prefer online e-commerce portals rather than off-line market and stores.
So E-Commerce based website is the ultimate solution through which business owners can sell their products to wide range of consumers without even having a shop itself and buyers can buy their products with just a click of a mouse. Research shows that users are more comfortable buying things online.
Moreover our impressive Ecommerce Website Design allows an easy and secure shopping experience for users through electronic medium.
We believe that to get success in any race we have to participate in that, with full preparation. We at Owesome Soft Solutions are indulged in designing and development of ecommerce portals for years and we as a E-Commerce development company know how to develop innovative ecommerce portals with all the required features.
The online shopping always makes customers cautious as the security is always a prime concern. We know the importance of security, so we ensure that customers are comfortable with our developed portals and they enjoy secure shopping experience with our portals.
Product selling portal Development is not an easy task but at Owesome Soft Solutions we research almost all the features that makes a business to succeed.
The ecommerce website is a way to achieve global reach for your business, products and services. An ecommerce website includes several different features, with the interesting and useful feature of the getting immediate feedback of the product.
Features like secure transactions with SSL, customer account facility, the payment details, and many more should also be there.
A website with simple looks and user friendly functions is preferred more than a website looking beautiful with the complex functions. We develop the website keeping the comforts of customers in mind as well.
The site will have an easy to navigate features, a user friendly front end with the shopping cart and products. The website will be SSL certified as we find the security of online transactions comes first for the customer as well as for business owners. The easy to control elements of the site will be helpful for the user to have full access to the different functions of the website.
We are E-Commerce development India Company, having 5 years of experience and till now we delivered 325+ E-Commerce based portal development successfully. With such a vast experience in the ecommerce development we are providing the best in all ecommerce portals whether it is a B2B or B2C portals.
We have the working knowledge of all kind of shopping cart software and payment gateways available in the market.
With the advanced and latest technology, we blend our experience to develop the best and secure ecommerce site.
Our E-Commerce website Development feature overview is as follows:-
• Fully 100% customizable design using templates
• One-Click theme Upgrades
• Content Management System for Information updates
• Support for Multiple Currencies
• Cross-sells on product pages
• Send to a Friend for all visitors, or registered users only
• Full SEO Friendly portal with advanced analytics
• Tax rate support
• Up-sells in Shopping Cart
• Send Wish list to a Friend by Email or RSS.
• Auto-generated Site Map
• Newsletter Management
• Order Management
• Sales Management
• Content Management
• Report Management