Email Marketing
Email Marketing to Subscriber Email , Promotional, Introductory Email , Register User Email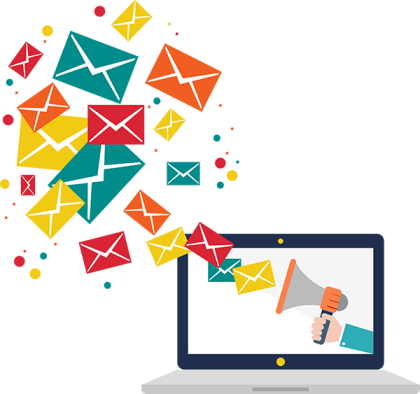 Popularity of Email
Nearly everyone in today's world has an email. Some people even have more than one email ID. In today's connected digital world, one would be hard pressed to find a person who does not have an email ID.
Power of online buyers
More and more people are choosing to buy online leading to Billion+ dollars valuation for companies. All these people who are buying online have an email address. They have good purchasing power and are usually targeted offline by marketers and advertisers on TV, print media, radio, Out of home etc.
Why use Email Marketing?
When so many people are spending billions of rupees online, does it not make sense to target these people with email marketing? Email marketing is a lot cheaper than the various traditional media mentioned earlier. Plus the return on investment on money spent will be much higher than that of traditional media like TV, Radio, Newspapers, and Magazines etc. There are other options on the web to target these people like web banners and advertising, but when these people are doing something else then a mere advertisement banner or a web banner will not fully serve the purpose.
Promote when and where they are receptive to communication
On the other hand, when they are checking their email, they are relaxed and not looking to do anything else so this is the best time to target these prospective customers. A uniquely crafted email with a unique value proposition would entice people into knowing more about the product or service. Once the customer is aware, then he or she would show interest.
AIDA Concept of Advertising
The advertising concept used here is AIDA which stands for Attention, Interest, Desire and Action. It is only when we get the attention of prospective customers that the other three stages can follow. If marketers do not have the attention of customers, then there is no interest, desire or action to purchase the product or service.
How can we help you?
We are digital marketing experts and can help you reach prospective customers through email. We can help you gram their attention and your quality products and services would then help you to complete the last three stages of Interest, Desire and Action. What separates us from the rest is our dedication, devotion and determination towards work and our special attention to the unique needs of each client. We make sure that we strive for 100% client satisfaction and anything less than that will just not be accepted by us. We do quality work that is delivered on time and exceeds client expectations every single time. Contact us now with your goals and we will help you achieve them. We will utilize our experience and skill to the fullest so that you can market your products and services to the customers of your choice. Make us your marketing partner and choose us to help you achieve success.