School Management System
School Management System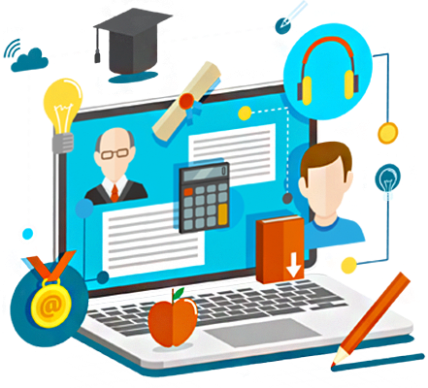 School Management System
School management software (SMS) helps to manage a school management system as well as provides a better interaction between teachers, students and parents. On the whole, a good school management tool provides users access to relevant school information, and it permits users to access the information within few mouse clicks rather than investing entire day in searching for a record in the bunch of paper files. School management software is a large database system that is used for managing and stores your day to day school business.
We, at Owesome Soft Solutions have been providing quality school management solutions to our customers for years. We believe that the school teachers, students, parents should and managements get relevant and vital information on a single screen. Additionally, we provide our clients with the best feature oriented solutions completely customized to their needs.
Key Features of Our School Management Software:
• Manage Student Information And Profile
With Our Student Management software, student functions like parent's information, admission, attendance, grading and discipline efficiently managed. Remember, data is entered only once and immediately available in customizable reports. Additionally, teachers can effortlessly view all accessible Student Records such as Parental Information, Emergency Contacts, and View Disciplinary Records and can update profile settings. Besides, educators can have access to View Timetable, View Exams Details, View Teacher Profile, Check Latest News and many more.
TO ARRANGE A FREE SCHOOL MANAGEMENT SYSTEM DEMO PLEASE SUBMIT YOUR REQUEST NOW !!
• Send SMS or Email to Parents
Using our software, School admin can send Email's or SMS's on the daily or scheduled basis through registered Sender ID. Besides, SMS's can be sent through generating reports such as pending fee alerts, Student Attendance, stock availability, salary collection etc., as well. However, parents can View student profile, attendance records, exam details, School Calendar and events, etc.
• Records And Maintains For Students, Parents Or Staff Members
School admin can maintain the records for Students, Parents, and Teachers, Staff members, etc, with the school management system. Also, this menu will help to maintain the admissions as well as enquiries at the school front desk, so management has real time information about the admissions or enquiries. Installing our school software brings better communication as well as removes the gap held among teachers, students, parents, staff, administration, etc.
• Attendance Management For Student/ Teachers /Staff
With school management software, school administrators can maintain all the records related to students, teachers and Staff attendance. It will provide the complete attendance report for a given period of time that will calculate all the off-days, holidays and presents or absents, etc. In addition, school administrators can View students List, List/Manage student guardians, List Courses and Batches, Manage Departments, View Exam Assessments, Set Class timings and many other time consuming activities.
Some of our major College/School ERP System include:
• Student Management
• Employee Management
• Courses Management
• Examination Management
• Attendance Management
• Fees/Online Payment
• Hostel Management
• Library Management
Today, computer technology has engaged more than 90% of human life, and the future generation such as students has to use technology in their every aspect of their life. However, introducing technology in their everyday life boosts their interest and activeness, so that they can easily learn, grow or be competent enough. Outshine Solution provides access to all information associated with academics and administration at one place. In addition, communication or sharing knowledge with teachers, staff and peers can happen with no trouble. Some of our major college portal services include:
There are many feature of our School/College management system like:
Student Management System
• MessageBox
• Check news
• Check events
• View calender
• Download syllabus, course material etc
• Update student profile settings
• View attendance
• View timetable
• view Fees details
• View Exams details
• View library logs(Books issues, books returned etc.)
• View Hostel Information
• View hostel fee/mess fees/dues information
Teacher Portal Management
• Mailbox
• Check latest news
• Check events
• Check school calender
• Download/upload documents
• Manage uploads
• View teacher profile
• View Attendance
• View timetable
• View exams details
• Update profile settings
Employee Management:
• Create/Add New employee
• List Employees
• Create and manage Employee PaySlip
• Employee Leave management
• Employee Attendance Management
• Manage employee association with departments
• Manage Employee categories
• Manage Departments
• Manage employee positions
• Manage employee grades
Student Management
• Create/Add New student
• Create/manage student category
• View students List
• List/Manage student guardians
• ID card automation
• Courses Management
• Create Courses
• Create Batches
• List Courses and Batches
• Manage Course Settings
Web based school management system and human resource management software from Owesome Soft Solutions help companies, organisation and educational institutions train their employees and students to work smarter as well as more efficient than ever before.
School Information Management System is a Windows based software for Colleges and Schools to manage Employee Records, Class Schedules, Student Registrations, Class Tests, Exam Schedules and Results, Expenses, Student Books, Allotment details and other functionalities. It is User understandable, Easy to install, Easy to debug and has many other features included in this Software.
School Information Management System is a large database system which can be used for managing your school's day to day business. School Management System allows users to store almost all of their school's information electronically, including information on students, employees, properties, teaching materials etc. Most importantly, this information can be easily shared with authorized users, records can be easily searched, and reports can be easily generated.
School Information Management System is configurable and can be configured to meet most individual school's needs. It is a multi-user system and can be used by hundreds or even thousands users at same time. General speaking, it is platform running on a Local Area Network (LAN). However, if the School Management System server is configured to be a public server - with a static IP or domain name - it would not have a boundary limitation. Wherever you are, once you have an Internet connection and School Management System client installed, you can logon to the School Management System server easily just the same as if you were sitting in the school office. However, the speed limitation is up to both your client's and server's Internet speed.
School Information Management System could make your school staff's life easier than ever. Using School Management System, finding student information is just a few seconds away which might have cost hours, or even days, before. At the end of the semester, printing students' statement becomes just a few minutes' job (the speed limitation determined by your printer), but it could be a nightmare without using School Management System. If a student is absent, an email or even a short text message could be sent automatically to their parents' email address or mobile phone